Anne Mie Lund
Right of audience before the
Danish High Court
Partner
Tel: 33 13 69 20
Email: aml@dklaw.dk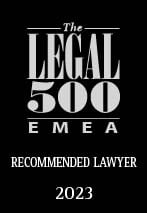 Areas of competence
Purchase of real estate in France
Inheritance and estate in France
French litigation
French employment law
Civil and commercial mediation
Education
2018
Completed The Association of Danish Law Firms' Mediator Education
2015
Admitted to the French Bar (pt. deposited license)
2008
Right of audience before the Danish High Court
2006
Lawyer
2002
Law graduate – University of Aarhus
Career
2022
Partner – Fabritius Tengnagel & Heine
2018
Associate Partner – Fabritius Tengnagel & Heine
2015
Lawyer – Fabritius Tengnagel & Heine
2013
Partner in Law Firm Lund-Marteu (LMLAW), France
2011
Lawyer in Law Firm Cabinet Klinker, France
2007
Assistant in debt settlement matters – Insolvency court, Kolding
2007
LETT Law Firm
2002
Law Firm Ret & Raad Fyn
Member of
Danish-French Chamber of Commerce

Association of Danish Mediators

Several years of law practice in Denmark as well as in France.
Assisted more than 100 individuals with the purchase of property in France during the last three years.
Carried out forced sales and debt collection on behalf of a number of financial institutions and estates in bankruptcy.
Company formation in France and employment of staff for large companies in France.